Here is a reprint of the AutoSport.com post:
"
Ken Block's plans for F1 test hit trouble after it is discovered he is too big for car
By Jonathan Noble and Dieter Rencken Thursday, June 30th 2011, 19:07 GMT
Ken Block's plans to test Pirelli's Formula 1 car at Monza in August have hit an early hurdle after it was discovered he is too tall to fit into the car.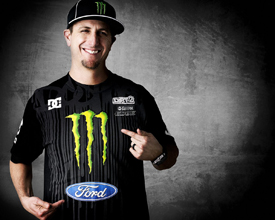 The WRC driver, who is famous for his Gymkhana videos, had planned to test the former Toyota F1 car on the final day of a Pirelli test at the Italian Grand Prix venue.
The American traveled to Toyota Motorsport's factory in Cologne on Thursday for some early preparations, and a run in the simulator, but the plans hit a snag straight away.
AUTOSPORT understands that Block's legs are too long for the car and, although he could sit in the cockpit, he could not turn the steering wheel when it was fitted.
Although it appears unlikely that modifications can be made to the updated 2009 F1 car to accommodate him, Toyota staff are looking at alternatives – including former cars – that could be suitable.
Block told AUTOSPORT at the Canadian GP that he was hugely excited about the prospect of driving an F1 car.
"I never imagined that something like this would even be available," he said.
"But Pirelli saw the idea of doing something unique and different with me. They have been a great partner with me for everything I have been doing, so it is just something that for me is a dream come true.
"I have so little experience in open wheel asphalt, so it will be a huge learning experience for me.""

More info about Ken Block can be found at MonsterWorldRallyTeam.com, and WikiPedia.
However, if you try to go to http://www.kenblock.com, you will be disappointed because this is the website of the Bloch/Kosis Keller Williams real estate group. Shame on you people ;-/